Announcements

Announcement for Grades 6-8:  Hybrid Learning Letter
Student Covid Testing Information
Kindergarten Virtual Open House Week Is May 3-7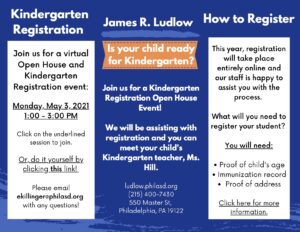 Click the flyer for Ludlow's Open House, Monday, May 3 from 1:00pm- 3:00pm.
Learn more, and register for Kindergarten today!
https://www.philasd.org/studentplacement/services/kindergarten-registration/
American Rescue Plan Act
You are invited to participate in our SY2021-2022 Budget Engagement Survey to help inform the School District of Philadelphia's plan to emerge from the COVID-19 pandemic a stronger and more equitable school district.
By completing the survey, you can provide valuable input on the most important types of investments we should consider making in three critical areas:
attending to the social, emotional and mental health needs of our students and staff, supporting student learning recovery and learning acceleration, and providing safe and healthy schools that support high-quality teaching and learning, and equitable outcomes for all students.
We value what our parents and families have to say! We're providing a series of focus groups in multiple languages so participants can have direct, verbal input, in a small group setting.
Participants will have the opportunity to share their thoughts and also hear other people's point of view about how the $1.2 Billion should be allocated to support our students' needs. Pre-registration is required to participate, and space is limited – so register now!
Dates include: April 20, 21, 27, & 29.
Sessions available in English, Spanish, and Mandarin.
See hyperlink below to register.
COVID Testing
Students and families now have access to FREE rapid COVID-19 testing at five school-based locations across the city:
Strawberry Mansion HS
South Philadelphia HS
Tilden MS
Northeast HS
Martin Luther King HS
Families can get tested with or without insurance regardless of whether the student is enrolled in hybrid or digital learning.
Appointments can be made online at testphl.org, but walk-ins are also accepted. Translated flyers, location hours, and other important information on how to participate can be found at www.philasd.org/studenthealth/COVIDtesting.
Questions about the program can be directed to studenthealth@philasd.org.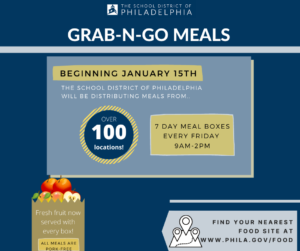 ---
Welcome to the 2020-2021 School Year!
Please see the resources below to navigate starting this school year virtually.
**The Parent Handbook is a live document and is subject to change.
Family Resources:
**District made videos for guidance on enrollment, attendance, Google Classroom, Google Meet, Parent & Family Portal, and more.
**New virtual courses available for families.
Teacher Resource (s):