Welcome Grade Level Letters & Supplies List
1st Grade Letter–Ms. Maratea/Ms. Daniels
4th Grade Letter–Mrs. Gailliout/Ms. Bennicoff
5th Grade Letter–Mrs. Gailliout/Ms. Bennicoff
6th Grade Letter–Mrs. Mayoros/Ms. Beiswenger
7th/8th Grade Letter–Mrs. Somerville/Ms. Tucker/Mr. Stine
AS Room 207 Letter– Ms. Strongin
4-8 iReady Support Letter–Ms. Green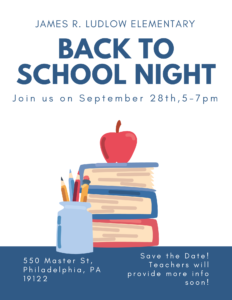 Back to School Night is September 28th, 5-7pm!
School Uniform Policy Effective 2022/2023 School Year!
School Vaccination Requirements Pennsylvanian Schools
Remember to sign the Contest to Covid Test Form

View Sample Brochure

We are Raising Money!

We will be starting:
Sep-06-2022

We will be ending:
Sep-20-2022

Participants will be coming to you with a brochure full of some great products for you to choose from. You can view the brochure that we will be using by clicking the link to your left. If you would like to see all of the information on this fundraiser you can view it on this

website

.